Using Store Credit & Gift Certificates
Store Credits & Gift Certificates: 2 Sections
Section 1: Using a Store Credit
Just shop like you normally would, then when you go to checkout make CERTAIN you use the EXACT SAME email address as you received the credit notice to and you will see a box on the billing page of checkout (like below).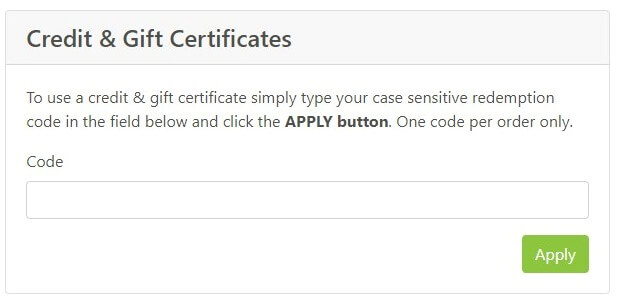 Then to apply your store credit to your order simply enter the amount you wish to use in the box and hit enter on your keyboard.
*** If your store credit is not showing up in checkout and you have used Amazon Pay in the past please contact us for help. Amazon Pay creates duplicate accounts on occasion which break the store credit functionality.
Section 2: Using a Gift Certificate
To use Gift Certificate funds already in your account, type the amount you wish to apply in the box that says 'Apply Amount'. You will need to choose a payment method, then click the continue button to apply the funds to your shopping cart.
If you are redeeming a new Gift Certificate you should type the number into the box next to Redemption Code. The amount redeemed will be added to your account when you click the submit button at the bottom of the page.