Shipping Information: 4 Sections
Section 1: Understanding Vendors & Shipping
At Mary's Miniatures we currently source miniatures from many vendors/manufacturers. This helps us bring you a wide selection of miniatures with well over 16,000 miniatures in our online catalog. This process, while it brings you great selection can delay shipping for some items.
Note that since we ship all of your items together, your order will ship based on the longest lead time of items included in your order.
Section 2: Shipping Facts & Important Information
We make every effort to ensure your satisfaction. We will collect payment for your order, then email you to acknowledge your order and finally email you a second time when the order is shipped.
We ship via the United States Postal Service only. When your order ships you will receive an email with tracking for your package.
We suggest you consider purchasing package insurance when checking out, as it's an inexpensive safeguard against lost, stolen and damaged shipments. We are not responsible for lost, stolen and damaged packages which are not insured. Stamps.com Insurance claims must be filed no later than 180 days after the shipment date of your package.
If you have had issues with stolen packages in your neighborhood or your mail carrier delivers packages in an easily veiwed location, we strongly suggest you purchase signature confirmation to prevent theft.
Please be certain when checking out that your delivery address is both accurate and valid.
Shipping to: Continental US, Alaska, Hawaii, American Samoa, District of Columbia, Guam, Marshall Islands, Northern Mariana Islands, Virgin Islands, United Kingdon, Australia & Canada. We are not responsible for arrival taxes, tarifs and duties assesed by your country or other agencies.
Free shipping is not offered for non-continental US orders.
International shipping customers if ANYTHING odd happens when we ship your order, we will contact you via email. Please make sure to provide a valid email address.
Unless all of the items in your order are a 1 business day ship lead time, expedited shipping is not possible.
Orders can be cancelled in the first 24 hours for free, after 24 hours AND before we ship cancelled orders are assessed a 20% restocking fee on ONLY the products we are charged to restock from the vendor. Shipping is refunded fully.
We ship USPS and each address is validated and formatted by the US Postal Service, please be certain your address is accurate as we are not responsible for misdirected packages due to an improper mailing address. Our postal software will automatically attempt to match your supplied address to a valid one, but there are no guarantees this will be appropriate. When in doubt, check with your post office.
Orders over $200.00 will be sent with either Signature Confirmation or Shipping Insurance depending on your location. This is a required process from the credit card companies and PayPal.
You can use PayPal Bill Me Later by selecting PayPal as your payment in checkout.
Sales tax is only applicable for orders shipping to the state of Georgia.
Please note that reported stock levels are not always accurate and many of our vendors reported stock numbers can be inaccurate and are not guaranteed. If an item(s) you order is out of stock we will do our best to source it from another vendor. If we cannot, that item and additional shipping (if incurred) will be refunded when we ship the rest of your order.
Section 3: Determining the cost of shipping
If your order totals $100 or more then there is free shipping on MOST items. To determine your exact shipping cost at any time, simply add the item to your cart, there is no need to create an account or supply any contact information to check your shipping cost. Once the item(s) are in your cart, visit the shopping cart page and use the "Calculate Your Shipping Cost" form pictured below. There is NO information collected except your sate and zip code to get the total of your shipping.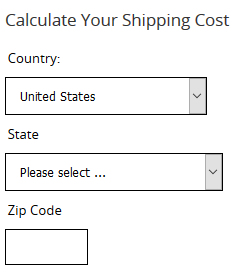 Section 4: 100% Satisfaction Guaranteed Returns Policy
We realize sometimes things are the wrong color, size or just not quite right for your project. You can return any un-used & resalable item for a MarysMiniatures.net store credit by shipping it back to us within 10 days of receipt by using the provided RMA information on your packing slip.
IMPORTANT: If your item is defective, wrong item, damaged or not as described, DO NOT ship your item to us, contact us first for instructions. (sales (AT) marysminiatures.net) or (912) 729-7624
1. Items MUST be in unopened/resalable condition no credit will be issued if they are not and the item(s) will be discarded, not returned to you.
2. Non-miniature books cannot be returned.
3. You must address your package including the RMA number from your packing slip.
4. The return package must be postmarked within 10 days from the date it was delivered to you.
5. Sales tax, postage to/from and other non-product costs cannot be credited.
6. There are NO RETURNS/EXCHANGES/REFUNDS ETC on special orders at all.
7. Once your return is processed your store credit will be issued to the email address which you used to place the order. See instructions here for using your new store credit.
Please ship your return using the RMA information already generated on your packing slip for proper handling and best turnaround times.
Returns not correctly following the rules can be refused.