For this simple DIY dollhouse project you will need: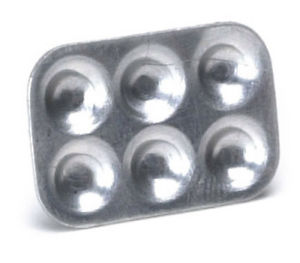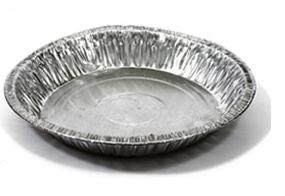 1. Pie Tin
2. Scissors
3. Ruler or Measurement Tool
4. Blunt Object
5. Nail File or Sand Paper
First: Cut out a square of a disposable pie tin. You can start with a two inch square sheet of aluminum and when the project is finished, cut off the excess. Keeping the scale of your dollhouse in mind.
Second: Take the end of a skinny object, such as the end of a paint brush or a toothpick with the point taken off. Anything with a rounded end will work just fine. Place the aluminum on a soft surface that will give way to pressure and with the object you chose make six indents in the aluminum. Making sure they are all the same size and the same width apart.
Third: Cut the excess aluminum making sure to leave some room to fold and file down the edges.
Fourth: Cut down your edges, keeping the scale of your dollhouse in mind, and with a nail file or a low grade sand paper square bend your edges slightly and file downward so your edges curl nicely into themselves.
Tutorial by,
Danielle