DIY Miniature Rolling Pin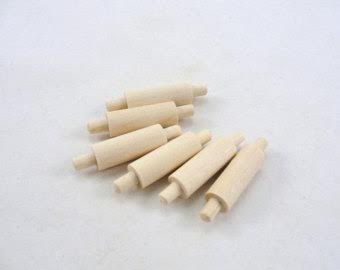 Materials
You'll need two different sized round wooden rods available at hardware and department stores. One rod the size you want for the middle rolling part and the other rod the size of your handles on either side.
You'll also need wood glue or any strong clear glue and stain or paint if your would like to stain or paint your miniature rolling pin when you're finished, as well as fine grit sand paper.
Instructions
You will measure out the thicker wooden rod to the scale of your dollhouse, see our Dollhouse Scales Guide if you don't know.
You'll want to sand the sides you cut so that they are straight and smooth.
Measure off your handles and sand them into the design you desire. It can be as simple as just rounding the outer edges out.
Glue your handles to the middle of each face of the middle part, making sure to clear away any excess glue.
If you wish to stain or paint your rolling pin after the glue dries is a good time to do it.
Tutorial By Danielle